Trauma Factors in Transgender and Non-Binary Clients: Treating Addiction through a Gender Affirming Lens
Transgender and gender non-binary individuals (Trans*/NB) comprise one of our culture's most vulnerable populations experiencing higher rates of mental health issues, suicidality, and addiction. These negative impacts are primarily due to family rejection and the enduring systemic cultural oppression, discrimination and stigma that still exist within our society. When seeking mental health or substance use treatment Trans*/NB individuals are challenged to also contend with the interpersonal stigma among treatment providers and client populations as well as structural stigma due to transphobic...Read more institutional policies. To better understand how to provide Trans*/NB patients with compassionate, culturally competent client-centered treatment, this workshop is designed to 1) deepen your understanding about the developmental and cultural factors that differentiate this population from cisgender clients, 2) illuminate the ways trauma influences symptom etiology, and 3) and equip addiction counselors and clinicians with a framework for treatment through a gender affirming lens.

*The Williams Institute – Jan. 2017: Age of individuals who identify as transgender in the United States. Less...
Learning Objectives
Identify three ways that institutional and familial cisnormativity, cisgender privilege, and internalized transphobia influence identity formation and contribute to maladaptive behaviors and mental health issues, including addiction.
State three risk factors that result from minority stress experienced by TRANS*/NB individuals.
Identify four developmental trajectories that are negatively impacted for TRANS*/NB adolescents in ways they are not for cisgender teens.
4. Describe two examples of how a clinician's biases and privilege may influence their assessment with a transgender client.
Tuesday, April 19, 2022
09:00 AM PDT - 10:30 AM PDT
Register for this Webinar
About the speaker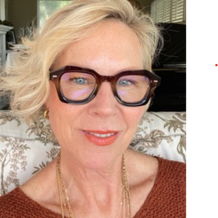 Linda K. Reeves, MA, LMFT
WPATH GEI Certified Gender Specialist
Linda K. Reeves is a licensed Marriage and Family Therapist with a private practice (Beach Cities LGBTQ Therapy) in Manhattan Beach where she specializes in working with LGBTQ+ individuals, couples, and families. She is active in the local community advocating for LGBTQ+ residents as a member of the Manhattan Beach Chamber of Commerce Inclusion Committee, the Beach Cities Health District Adolescent Mental Health Task Force, and as a board member and co-founder of the PFLAG Manhattan Beach / South Bay chapter. In response to the bullying her gay son experienced in school, Linda co-founded The Prism Institute in 2014 and provides education and training on affirmative LGBTQ+ practices to businesses, schools, and mental/medical health services providers nationwide. Linda is also writing a book for parents of transgender and gender non-binary loved ones. Linda received her master's degree in Clinical Psychology from Antioch University, Los Angeles with a specialization in LGBTQ+ Affirmative Psychotherapy, and her undergraduate degree in Journalism from San Diego State University.
Agenda
Outline
Speaker Introduction
Gender
as a Cultural Construct: Where Trauma Originates & Why it Perpetuates
Overview
of Gender Identity Development: Trauma Through the TRANS*/NB Life Span
How
Heteronormativity and CIS genderism Leads to Minority Stress and Increased Risk
Factors for Addictive Behaviors
Statistics
on Gender Diverse Population, Bullying, Suicidality, Alcohol and Substance
Abuse
What it
Means to Provide Treatment Through a Gender Affirming Lens: Self-Analysis -
Checking your Passing Privilege and Internalized Bias
CE Information
- Earn 1.5 CE Credit Hours
CE Approvals
American Psychological Association
CE Learning Systems, LLC is approved by the American Psychological Association to sponsor continuing education for psychologists. CE Learning Systems maintains responsibility for this program and its content.
New York State Education Department's State Board for Social Work
CE Learning Systems SW CPE is recognized by the New York State Education Department's State Board for Social Work as an approved provider of continuing education for licensed social workers #0060.
New York Education Department for Licensed Mental Health Counselors
CE Learning Systems, LLC is recognized by the New York State Education Department's State Board for Mental Health Practitioners as an approved provider of continuing education for licensed mental health counselors. #MHC-0072.
New York State Education Department's State Board for Psychology
CE Learning Systems dba CE-Credit.com & AddictionCounselorCE.com is recognized by the New York State Education Department's State Board for Psychology as an approved provider of continuing education for licensed psychologists #PSY-0016.
CE Process Info
Each professional is responsible for the individual requirements as stipulated by his/her licensing agency. Please contact your individual licensing board/regulatory agency to review continuing education requirements for licensure renewal. Please note: You must attend "live" (in real-time) to earn CE credits.
Before the event, you will receive an email from CE-Go with access to the virtual event. After the event, you will receive access to your evaluation and continuing education certificate via a personalized "attendee dashboard" link, hosted on the CE-Go website. This link and access to the virtual event will be sent to the email account you used to register for the event.
Upon accessing the CE-Go "attendee dashboard", you will be able to:
Complete evaluation forms for the event

Download your continuing education certificate in a PDF format
If you have any questions or concerns regarding the CE-Go process, please contact CE-Go at 888-498-5578 or by email at support@ce-go.com Please Note: Emails for this event will come from "support@ce-go.com".
Please make sure to check your spam/junk folder in case those emails get "stuck". We'd also suggest "whitelisting" support@ce-go.com. This tells your email client that you know this sender and trust them, which will keep emails from this contact at the top of your inbox and out of the junk folder.