Serving & Supporting People Who Work in the Sex Industry
Despite having a strong understanding of how critical therapy is for healing and growth, sex workers often feel that they cannot be wholly honest with clinicians. Their fears are far from unfounded, as legal repercussions threaten the safety of sex workers and their families; in addition, sex workers, if they are open and truthful, often find themselves in the position of educator, when they are trying to carve out space for their own sanctity. Settle in for a penetrating conversation with veteran sex worker Sera Miles, who will illuminate how to create a welcoming and safer therapeutic space...Read more for folks working in the adult industry, as well as their clients.

Please note this session will be recorded. Attendees will not be shown in the recording, but note if you ask a question verbally, your voice may be recorded. Less...
Learning Objectives
Create a safer space for clients who have worked or are working in the adult industry.
Identify the anxieties sex workers and adult industry clientele experience before entering and within the therapeutic space.
Differentiate between human trafficking, survival sex work, and sex work, and dispel myths therein.
Contextualize sex work within western patriarchal capitalism exercised thru governmental control.
Friday, July 16, 2021
11:00 AM MDT - 01:00 PM MDT
Register for this Webinar
$25.00 - $75.00
About the speaker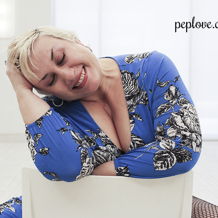 Sera Miles
Sera Miles is CEO of People Exchanging Power (PEP). Human sexuality courses at the University of New Mexico, Southwestern College, and University of Denver have welcomed her as a guest speaker; she's presented at Texas Tech, Central New Mexico Community College, DomConLA and DomConNOLA, Beat Me in St Louis, Northwest Leather Celebration, and Behind Closed Doors in Tucson; and taught workshops for various groups and sex shoppes across the United States. In 2016, the Sexual Assault Nurse Examiners (SANE) of New Mexico invited Sera to speak about BDSM at their annual conference, and the following year, Sera served as the BDSM adviser to the New Mexico Strangulation Task Force. Sera has appeared in numerous fetish videos, some so ancient they require a VCR, and she stars in "Bonetown" and "Bonecraft," the world's first pornographic computer games. For six vibrant years, Sera led New Mexico FetLifers, a social networking group she founded, and which produced the conference "Evolution of the Revolution." She co-founded New Mexico's Sex Workers Outreach Project chapter and organized Albuquerque's events for the International Day to End Violence against Sex Workers (aka Red Umbrella Day) from 2009 to 2015. Sera, by invitation, spoke at the 2018 March for Trans Rights in Albuquerque, which was an honor that she works to be worthy of. The United Court of Sandias bestowed upon Sera the lifetime title, "Inspiration of the Sandias," and in 2018, she co-chaired UCS' Year of the Woman committee, where she spear-headed the #periodpositive project, collecting menstruation supplies to help under-served communities, and working to dismantle cultural shame about periods. Sera identifies as a demisexual leather D-type, in addition to the identities of activist, editor, type-A personality, sex worker, and Leo Dragon.
CE Information
- Earn 2 CE Hours
CE Approvals
National Association of Social Workers, New Mexico
This training is approved for continuing education credits and cultural CEUs through National Association of Social Workers -New Mexico. The Licensee must maintain proof of continuing education courses taken for the past four (4) years. The New Mexico Regulations and Licensing Department, Boards and Commissions, Social Work Licensing Board reserves the right to audit a licensee's continuing education records as it deems necessary. The New Mexico Counseling and Therapy Board and the NM Psychological Association accept approved social work CEUs for license requirements. Please always check with your professional licensing board for current rules and regulations.
CE Process Info
Each professional is responsible for the individual requirements as stipulated by their licensing agency. Please contact your individual licensing board/regulatory agency to review continuing education requirements for licensure renewal.
A continuing education certificate for the event will be obtained using the website, CE-Go. Before the event, you will receive an email containing a link to CE-Go. (This link will be sent to the email account you used to register for the event).

Upon accessing the CE-Go website, you will be able to:

Join Webinar Sessions




Complete evaluation forms for the event




Download your continuing education certificate in a PDF format



If you have any questions or concerns regarding the CE-Go process, please contact CE-Go at 888-498-5578 or by email at support@ce-go.com