Soma-Cultural Liberation
This presentation will focus on the way culture shapes and informs our bodily experience. Using cultural narratives of Indigenous people as examples, Soma-Cultural Liberation will give clinicians practical tools for assessment, clinical intervention, and understanding how culture is a relevant topic of discussion and inquiry in therapeutic and healing modalities.

Check out Cyndi Darnell's interview with Dr. Roger Kuhn:
https://www.youtube.com/watch?v=JnE1Yb0TpQ8 Less...
Learning Objectives
Define soma-cultural theory and apply an ethnorelativism framework to their clinical interventions.
Assess and understand historical and contemporary issues impacting Native Americans and Two-Spirit people and how these issues may show up in a clinical scenario.
Learn to utilize a BOLD ADDRESSING model for clinical interventions.
Friday, February 24, 2023
12:00 PM MST - 02:00 PM MST
Register for this Webinar
$45.00 - $85.00
EARN 2 CE Credit Hours
Click Here to
Register
About the speaker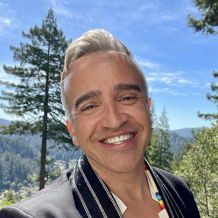 Roger Kuhn, PhD
Dr. Roger Kuhn is a Poarch Creek Two-Spirit Indigequeer soma-cultural activist, artist, sex therapist, and sexuality educator. Roger's work explores the concepts of decolonizing and unsettling sexuality and focuses on the way culture impacts and informs our bodily experiences. In addition to his work as a licensed psychotherapist, Roger is a faculty lecturer of American Indian Studies at San Francisco State University. He is a board member of the American Indian Cultural Center of San Francisco, a community organizer of the Bay Area American Indian Two-Spirit powwow, and a member of the LGBTQ+ Advisory Committee of the San Francisco Human Rights Commission. In 2022, Roger was featured in the Levi's Pride campaign. He is currently writing his first book, Soma-Cultural Liberation, which will be published by North Atlantic books in 2024.
Agenda
1. Welcome and Introduction
2. Positionality and Epistemology
3. What is culture? Soma-Cultural Liberation
4. Positionality, Privilege, and Power
5. Two-Spirit and Native American Cultural Experiences
6. Putting theory into practice - Assessment interventions and practice
7. Q & A
CE Information
- Earn 2 CE Credit Hours
CE Approvals
The New Mexico Counseling and Therapy Board
Approved by New Mexico Counseling and Therapy Practice Board. Provider Number CCE0204731. Expires 9/30/23

To all participants: If you were dissatisfied with the workshop, please contact the Counseling and Therapy Practice Board immediately
American Association of Sexuality Educators, Counselors and Therapists
This program meets the requirements of the American Association of Sexuality Educators, Counselors and Therapists (AASECT) and is approved for 2 CE credits. These CE credits may be applied toward AASECT certification and renewal of certification. Completion of this program does not ensure or guarantee AASECT certification. For further information please contact info@assect.org. Provider 22-148-STNM
CE Process Info
Each professional is responsible for the individual requirements as stipulated by their licensing agency. Please contact your individual licensing board/regulatory agency to review continuing education requirements for licensure renewal.
A continuing education certificate for the event will be obtained using the website, CE-Go. Before the event, you will receive an email containing a link to CE-Go. (This link will be sent to the email account you used to register for the event).

Upon accessing the CE-Go website, you will be able to:

Join Webinar Sessions




Complete evaluation forms for the event




Download your continuing education certificate in a PDF format



If you have any questions or concerns regarding the CE-Go process, please contact CE-Go at 888-498-5578 or by email at support@ce-go.com