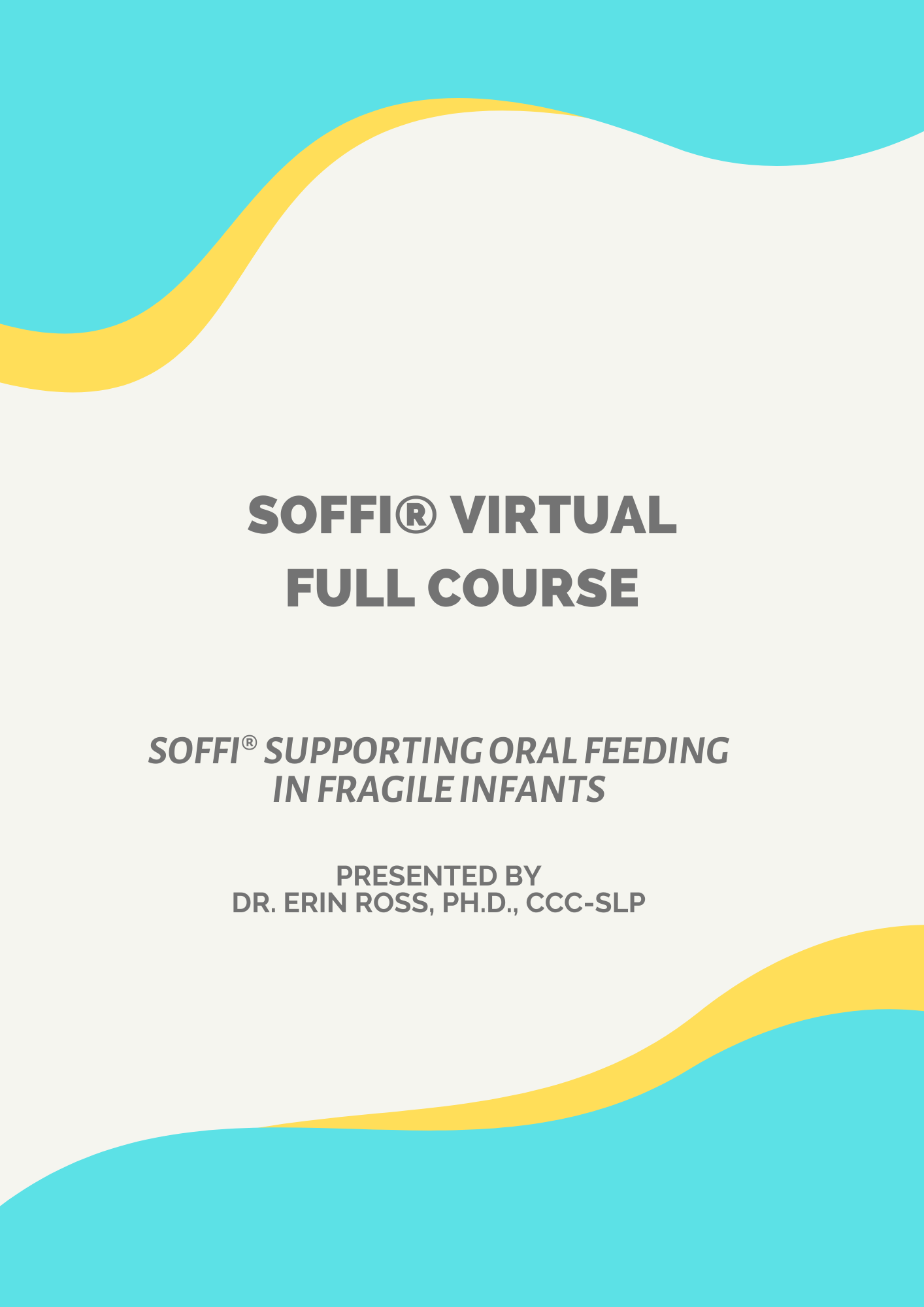 SOFFI® Virtual Full Course July
Date: July 19 - 21, 2023
SOFFI®
is an integrated approach to supporting oral feeding in preterm and in medically complex infants, both in the NICU and in the Early Intervention setting. The primary approach is now being offered as a virtual "live" event over zoom, offered across three days. This course provides the practitioner with extensive evidence-based information regarding feeding development as well as assessment and intervention strategies. At the end of the course, after passing all of the module quizzes, the participant will be certified as a SOFFI® Professional.
Total Contact Time: 15.5 hours
Objectives for the entire event (note: each day has objectives listed for each module as well):
Identify necessary components of infant development that indicate a readiness to begin and sustain oral feeding

Discuss development of oral-motor skills

Describe the interaction between medical and developmental level as they relate to feeding readiness and progression

Identify infants who are not progressing in feeding skill development

List one way to involve the family in early, pre-feeding activities to support their infant's later feeding skills

Identify two distinct sucking patterns in infant feeding development using the BROSS approach terminology

Identify the influence of two medical conditions on oral feeding success in infants

Describe why external regulated pacing is the last intervention listed along the SOFFI® Algorithm

List at least 3 things that affect flow rate in bottles



TESTIMONIALS

Dr. Ross and her team are brilliant! Not only did I learn so much from the course itself, but I feel empowered and supported in my practice and interactions with families now that I'm equipped with several new resources ranging from websites and apps to published literature.
Colleen Tschida

YES! Absolutely LOVED this course. The information was very thorough and explained in a way that connected assessment and treatment in a natural, applicable way. So many courses seem to lack the "applicable" piece, but that was far from the case in SOFFI. Erin graciously answered so many questions. Her experience, knowledge, and passion to help others succeed in this area of infant feeding was evident. Highly recommend this course!!
Samantha Craigo

Absolutely loved it! There are so many useful tools, techniques and info provided that I can implement immediately!
Susan Smith