Sex and Disability: Using the Social Model, LGBTQIA+ Affirmative Therapy, and Sex Therapy for Gender Minorities with Disabilities - AASECT and APA CEs
In this course, we will be discussing how disability influences relationships, shame, and sexuality, paying close attention to gender minorities and the problem with ableism. This course will include a discussion on battling the medical model with disability while using the social model as a lens for counseling gender minorities with disabilities. We will discuss LGBTQIA+ affirmative therapy through intersectionality, and how the therapy is an integrative approach to conducting therapy that encompasses factors of empowerment, social marginalization, and environmental barriers relevant to gende...Read morer minorities with disabilities while incorporating medical realities and coping strategies. We will discuss the missing discourse of pleasure and how we can help clients with disabilities explore their own sexual desire, partner connection, and negotiation. This course will include a discussion on exploring the resilience of sexual and gender minority persons living with disabilities Less...
Learning Objectives
Explain the theoretical framework of intersectionality, the social model, and queer theory
Discuss minority stress, stigma, and discrimination of LGBTQIA plus individuals with disability.
Identify the tools in applying LGBTQIA plus affirmative therapy and sex therapy in clinical settings
Target Audience
Licensed and unlicensed mental health professionals
Learning Levels
Intermediate – Intermediate level programming builds upon the learners' foundational knowledge in a content area. Programming at the intermediate level includes more depth than that which is associated with a beginning level program. The program of instruction can build on the learners' familiarity with the literature and/or experience. Programming can help the learner understand applications and limitations of theories and applied skill sets. Intermediate level programming may also focus on an integration of skills. This programming could also serve as a refresher course for individuals who have background in a content area and are interested in learning more contemporary applications. 
Tuesday, October 04, 2022
01:00 PM EDT - 04:00 PM EDT
Register for this Webinar
$100.00
EARN 3 CE Credit Hours
Click Here to
Register
About the speaker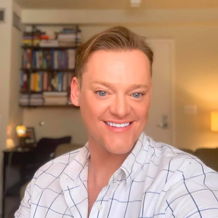 Lee Phillips, EdD, LICSW, LCSW-C, LCSW, CSAC, CST, CSCTT (he/they)
Dr. Lee Phillips is in private practice in New York City, Water Mill, NY and McLean, Virginia where he specializes in chronic illness and sexual dysfunction. He is a Licensed Clinical Social Worker (LCSW) in Washington, DC, Maryland, Virginia, and New York. He is a Certified Sex Therapist (CST) by the American Association of Sexuality Educators, Counselors, and Therapists (AASECT). Dr. Phillips has been in private practice for more than a decade treating a diverse group of patients searching for relief from the complications resulting from debilitating, and often overlooked, combination of illnesses. He lectures on topics including sexuality, chronic pain, preventative services, anxiety and stress management, caregiving stress, depression in the elderly, mindfulness, cognitive strategies for chronic pain, reclaiming sexuality for couples with chronic illness, ethical decision making, assessment of mental disorders, and exploring sexual communication, freedom, and pleasure for gender minorities with chronic illness, pain, and other disabilities. He has published in the Journal of Baccalaureate Social Work, conducting a research study on LGBTQ-Affirmative Teaching at Historically Black Colleges and Universities: Understanding Program Directors Views. Dr. Phillips has been a featured expert in 18 publications on sex and relationships. He is a writer for Psychology Today and the host of the podcast, Sex and Chronic Illness with Dr. Lee. He holds a Doctor of Education (Ed.D.) degree in Organizational Leadership with an emphasis in Behavioral Health from Grand Canyon University in Phoenix, AZ. He can be found at www.drleephillips.com
CE Information
- Earn 3 CE Credit Hours
CE Approvals
American Psychological Association
Council for Relationships is approved by the American Psychological Association to sponsor continuing education for psychologists. Council for Relationships maintains responsibility for this program and its content.
American Association of Sexuality Educators, Counselors and Therapists
This program meets the requirements for the American Association of Sexuality Educators, Counselors, and Therapists (AASECT) and is approved for 3 CE credits. These CE credits may be applied toward the AASECT Certification and renewal of certification. Council for Relationships # 11-111A.

Completion of this program does not ensure or guarantee AASECT Certification. For further information please contact ce@aasect.org.
CE Process Info
CFR is approved by the American Psychological Association (APA) to sponsor continuing education for psychologists and other mental health professionals whose state licensing boards recognize CE credit provided by APA-approved sponsors.*
The following entities accept continuing education credits provided by APA-approved sponsors: The Pennsylvania State Board of Social Workers, Marriage and Family Therapists, and Professional Counselors; the New Jersey State Board of Marriage and Family Examiners; the Delaware State Board of Professional Counselors of Mental Health and Chemical Dependency Professionals; the Delaware State Board of Social Work Examiners. Each professional is responsible for the individual requirements as stipulated by his/her licensing agency. Please contact your individual licensing board/regulatory agency to review continuing education requirements for licensure renewal. Please note: You must attend "live" (in real-time) to earn CE credits.
Before the event, you will receive an email from CE-Go with access to the virtual event. After the event, you will receive access to your evaluation and continuing education certificate via a personalized "attendee dashboard" link, hosted on the CE-Go website. This link and access to the virtual event will be sent to the email account you used to register for the event.
Upon accessing the CE-Go "attendee dashboard", you will be able to:
Complete evaluation forms for the event

Download your continuing education certificate in a PDF format
If you have any questions or concerns regarding the CE-Go process, please contact CE-Go at 888-498-5578 or by email at support@ce-go.com Please Note: Emails for this event will come from "support@ce-go.com".
Please make sure to check your spam/junk folder in case those emails get "stuck". We'd also suggest "whitelisting" support@ce-go.com. This tells your email client that you know this sender and trust them, which will keep emails from this contact at the top of your inbox and out of the junk folder.