Mindful Sex Therapy Skills
In this presentation you will learn how to apply mindfulness-based techniques to help clients connect with their emotions, pleasure, their sense of boundaries, and to move through triggers with less dissociation. Molly will help you feel more comfortable using language of anatomy and sexual intimacy, introduce body-based mindfulness practices for use in session and for clients to use at home, and help you guide clients in understanding their trauma response and bring self compassion to their trauma healing. This training will offer concrete brief experiential exercises you can practice with cl...Read moreients in person or via telehealth. Even if folx feel disconnected from themselves, their body, or eroticism, the senses can help bring them back.

AASECT Core Knowledge Areas:
D. Issues related to sexual orientation and/or gender identity: heterosexuality; issues and themes impacting lesbian, gay, bisexual, pansexual, asexual people: gender identity and expression
E. Intimacy skills (e.g., social, emotional, sexual), intimate relationships, interpersonal relationships and family dynamics
F. Diversities in sexual expression and lifestyles including, but not limited to, polyamory, swinging, BDSM and tantra
G. Sexual and reproductive anatomy/physiology
M. Pleasure enhancement skills

Sex Therapist Training Areas
A. Theory and methods of sex-related psychotherapy, including several different models.
B. Techniques of sex-related assessment and diagnosis of the 'Psychosexual Disorders' described in the current edition of the DSM.
C. Theory and methods of approach to intervention in relationship systems experiencing sex and intimacy problems. Less...
Learning Objectives
Increase comfort and ease with inclusive sexual language, including talking about sex, bodies, gender, and fantasy with clients of diverse experiences.
Practice three body-based mindfulness activities to get in touch with pleasure, boundaries, and sensations.
Identify at least three ways for clients to apply mindfulness techniques around sex, boundaries, and touch.
Friday, January 28, 2022
12:00 PM MST - 02:00 PM MST
Register for this Webinar
About the speaker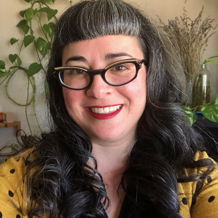 Molly Adler, LCSW, CST, ACS
Director, Sex Therapy New Mexico
Molly is an AASECT certified Sex Therapist, Clinical Social Worker, Sex Educator and Trainer. Her practice Sex Therapy New Mexico is based in Albuquerque, New Mexico on Tiwa land. She works with a lot of clients who are LGBTQ2S+, BIPOC, anti-racist, activists, polyamorous, and/or kink identified. Her approach is compassionate, grounded, pleasure-centered, light-hearted & social justice oriented. She enjoys the micro-level therapeutic work, as well as working towards structural change by offering training for healthcare providers and institutions who want to be more inclusive of sexual and gender diversity in their work. Previously she co-founded and co-directed Self Serve Sexuality Resource Center, New Mexico's first and only sex-positive, health- and education-focused adult shop and resource center for its first eight years.
CE Information
- Earn 2 CE Credit Hours
CE Approvals
The New Mexico Counseling and Therapy Board
Approved by New Mexico Counseling and Therapy Practice Board. Provider Number CCE0204731. Expires 9/30/22

To all participants: If you were dissatisfied with the workshop, please contact the Counseling and Therapy Practice Board immediately
American Association of Sexuality Educators, Counselors and Therapists
This program meets the requirements of the American Association of Sexuality Educators, Counselors and Therapists (AASECT) and is approved for 2 CE credits. These CE credits may be applied toward AASECT certification and renewal of certification. Completion of this program does not ensure or guarantee AASECT certification. For further information please contact info@assect.org.
CE Process Info
Each professional is responsible for the individual requirements as stipulated by his/her licensing agency. Please contact your individual licensing board/regulatory agency to review continuing education requirements for licensure renewal.
A continuing education certificate for the event will be obtained using the website, CE-Go. Before the event, you will receive an email containing a link to CE-Go. (This link will be sent to the email account you used to register for the event).

Upon accessing the CE-Go website, you will be able to:

Join Webinar Sessions




Complete evaluation forms for the event




Download your continuing education certificate in a PDF format



If you have any questions or concerns regarding the CE-Go process, please contact CE-Go at 888-498-5578 or by email at support@ce-go.com