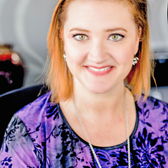 Co-founder and Trainer/Consultant of Heartland PMAD Consultants, llc, serving as an expert in perinatal mental health. Founder, Lead Therapist and Clinical LCSW Supervisor of Sage Tree Therapy, llc a private psychotherapy practice specializing in perinatal mood and anxiety disorders, birth and pregnancy trauma, infant and pregnancy loss, fertility challenges, and other women's issues. Executive Board member of the Hyperemesis Education and Research Foundation. Adjunct Faculty Professor at Washington University Brown School of Social Work.
Sessions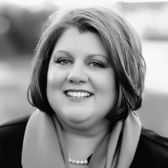 Kim has been serving perinatal women for 23 years as a childbirth educator, birth and postpartum doula, and perinatal mental health peer specialist. Besides being the Co-Founder/Co-Owner of Heartland PMAD Consultants she is the Senior Community Outreach Coordinator at SSM St. Mary's. In this position, Kim is responsible for The MOMS Line Programs which includes recruiting, training, and managing over seventy volunteers that provide peer telephone support and peer led group support for perinatal women in the St. Louis Metro Area.

Kim's first passion of educating expectant families continues to be one her top priorities. She can be found most Monday nights teaching Calm Confident Childbirth, her proprietary birth education curriculum which includes the following topics; physiologic birth, evidence-based practices related to labor and delivery, parental wellbeing, relaxation, and mindfulness.

Kim also serves as the Secretary of the Wise Women Council at Jamaa Birth Village—Missouri's first equal access midwifery care center.
Sessions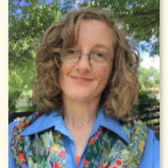 Rebecca is a provisionally licensed professional counselor in private practice with Lotus Counseling (Creve Coeur, Missouri), working with individuals, couples and families. You can find out more via her website: https://www.rebeccaray473.com/. Her primary modalities are Cognitive Emotional Behavioral Therapy (CEBT), Dialectical Behavior Therapy (DBT), Family Systems/Attachment, and Strength-based Collaborative approaches. Since 2015, she has helped lead suicide prevention efforts in the St. Louis metro area. She studied perinatal mental health and emergency mental health assessment at the University of Plymouth, United Kingdom, in 2021. She also served as a training provider/presenter for the Missouri Behavioral Health Council, Missouri Department of Mental Health, and Missouri Mental Health Counselors Association. She is currently bi-vocational, having worked as a communications professional prior to beginning her career transition into the mental health profession.

Overview: Research findings are building the case for the perinatal time period as a critical turning point for women's mental health. A 2021 study (University of Michigan) finds that the presence of suicidal thoughts and self-harm among U.S. childbearing women has nearly tripled in the past 10 years. Increasingly women are at higher risk for new-onset of severe mental illness (SMI) in the early postpartum period than any other time in their lives.

This session explores these issues, along with the risk factors, red flags for urgent intervention, and areas for improvement when supporting women in pregnancy with mental health needs and crises, which can include thoughts and feelings of suicide. The presenter, who recently returned from specialized training in the United Kingdom, also shares details about the expansion of perinatal mental health services in England and their model of multimodal treatment, with inpatient mother-baby units and specialized perinatal mental healthcare teams.
Session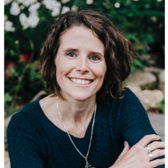 I am a clinical social worker, somatic trauma psychotherapist, embodiment practitioner, community builder, group facilitator, space holder for transformational growth and healing, and a forever student.

Through my private practice, Empowered Therapy (https://www.kellycaul.com/), I offer both individual and group therapy while specializing in working with women, female adolescents, gender diverse individuals, and parents. My holistic, integrative approach is rooted in somatic healing, parts work, mindfulness and self-compassion, empowerment, attachment theory, neurobiology, and a deep and reverent understanding of the nervous system.

As a white-bodied, heterosexual, cisgender, able-bodied woman of mixed class, I am also deeply committed to holding brave space for the cultivation of compassionate, accountable, anti-oppressive and equitable communities .

Since January 2009, I have been offering therapeutic empowerment groups for girls in middle school, Girls with Strength, and girls in high school, Quieting the Storm.

In addition, I facilitate workshops and trainings for the community on an array of topics that center personal and collective healing and transformation from a trauma-informed, resilience-focused, and justice driven lens.

It is my dedication to personal and collective healing that sparked the beginnings of Empowered Spaces (https://empoweredspaces.net/). I opened Empowered Spaces in April 2018 with the primary mission to hold space for deepening connections, co-creating community rooted in care and belonging, and transformational healing. I deeply believe that healing happens in community, and that co-creating intentional spaces that support us in showing up as our whole selves is foundational for personal and collective transformation and liberation.

Education & Training
As a trauma-sensitive clinician, I have been trained in several different approaches for healing that are rooted in mindfulness, self-compassion and acceptance, attachment theory, neurobiology and a deep understanding of the nervous system:

Masters in Social Work (MSW) from Brown School of Social Work at Washington University in St. Louis (2006), and received my LCSW from the state of Missouri in 2008

Internal Family Systems – IFS (Level 1)

Somatic Experiencing - SE

Eye Movement Desensitization Reprocessing - EMDR

Working with Racism, Sexism, Homophobia and Other Forms of Unconscious Bias: An Internal Family Systems Approach with Percy Ballard, MD & Kate Lingren, LICSW

The Art of Skillful Facilitation: Presencing Race, Gender, & Collective Healing with Michelle C. Johnson, Stephanie Ghoston Paul, & Tristan Katz

The Practice of Collective Care with Michelle C. Johnson and RW Alves

Off the Mat, Into the World Yoga, Purpose, & Action Leadership Intensive with Seane Corn, Hala Khouri, and Suzanne Sterling

Remembering, Responsibility, Reverence, & Reconciliation: An Anti-Racism Training for People Who Hold Space for Healing with Michelle C Johnson, Vivette Jeffries-Logan, & Kerri Kelly

Trauma Center Trauma Sensitive Yoga(20HR training)

Specialization in Trauma-Informed Yoga with Zabie Yamasaki, Transcending Sexual Trauma Through Yoga

Treating Complex Trauma with Internal Family Systems: A comprehensive certificate training course with Frank G. Anderson, MD

Dr. Bessel A. van der Kolk's Intensive Trauma Treatment Course

IFS Continuity Program

Accessing and Living from the Self, - Meditation, Mindfulness, & IFS Psychotherapy with Richard Schwartz and Loch Kelly

The Living Brave Semester with Dr. Brene Brown

Certificate in Mean Girls: Strategies and Resources in Identifying and Helping Relationally Aggressive Girls and Empowering Their Victims

Trained in Nonviolent Crisis Intervention through the Crisis Prevention Institute, Inc.
Session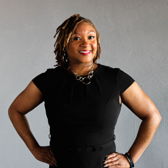 Dr. Leslie Davis is a Licensed Clinical Professional Counselor and Relationship Coach
in O'Fallon, IL (https://ldcoachingandconsulting.com/). Using an emotion focused approach, she empowers young women and youth with tools to improve their relationships and self-esteem while coping with anxiety and depression.

The release of her new podcast, She Matters with Leslie Davis, empowers Black single moms globally to develop healthy attachments with a goal of reducing depression and suicidal ideation. Available on Apple Podcast (https://podcasts.apple.com/us/podcast/she-matters-with-leslie-davis/id1608139697) and Spotify (https://open.spotify.com/show/3GjQluaz3D4iHD2lN06Gcc?si=5sG8Vf-RTEO_l4fdgg6d3g).

As the Founder and Executive Director of Hearts in Faith, NFP, Dr. Davis brings
awareness to and addresses the needs of single mothers, single fathers, and youth. In
response to the needs of the community, she developed a thriving youth violence
prevention program called Heart Beats that assists violent offenders involved with the
juvenile justice system. Her 12 years of crisis management as a Caseworker and
Supervisor in the Illinois Child Welfare system has allowed her to impact numerous
youth and families involved with the Illinois Department of Children and Family Services.

Dr. Davis holds a BA in Sociology from Wheaton College and an MA in Professional
Counseling from McKendree University. She recently completed the requirements
earning a Doctor of Philosophy in Counseling and Psychological Studies at Regent
University. Her favorite way to practice self-care is training as a Blue belt in Brazilian jiu jitsu at 10th Planet O'Fallon, IL.
Session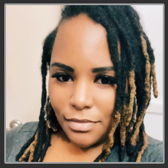 The woman behind the episodes of Da Hood Talks Podcast (https://www.dahoodtalks.com/) is Shavanna Spratt who is the owner of Da Hood Talks Entertainment and also Da Hood Doula, LLC. Her show that launched December 12, 2020 addresses many topics that will educate, inspire and represent the community that she has been a part of for years.

Da Hood Talks Podcast since launched has been listed as a "DOPE BLACK PODCAST" on awkwardmenage.com by Negos Nerd Society and supported by FLOURISH STL.

Da Hood Talks Podcast: The podcast for the voiceless, empowering the everyday people and supporting the community in the STL area.
https://podcasts.google.com/feed/aHR0cHM6Ly9hbmNob3IuZm0vcy80MGU1MmQwYy9wb2RjYXN0L3Jzcw==
https://open.spotify.com/show/5EzH2l1SmwIhFVLgaWWZmH
https://anchor.fm/dahoodtalks
https://www.youtube.com/channel/UCNBgw_oB6UB1O6E2Mq6b6Ag
https://pca.st/6j1cizvn
https://podcasts.apple.com/us/podcast/da-hood-talks-podcast-show/id1542821784
https://radiopublic.com/da-hood-talks-podcast-show-WJnRX1

Shavanna has spent the majority of her early years living in the county of Saint Louis and has been a resident of Ferguson, MO since 2012. She was recently appointed to the Ferguson Human Rights Commission by the Mayor. Shavanna was also elected to serve on the St. Louis County Extension Council while also acting as an active member of the Flourish Leadership Cabinet whose mission is to work towards eliminating racial disparities in infant mortality by the year 2033.

Shavanna is a certified Doula; a great advocator for Mothers and Babies; and she has over 10-years of working in some capacity in the healthcare field.

Shavanna is a 2020 graduate of the Neighborhood Leadership Fellow (NLF) and Neighborhood Leadership Academy (NLA). She was featured in the Saint Louis American around her experience in the NLF program (https://cwc.umsl.edu/nlf/fellows/index.html), and has also been recently featured in the NLA newsletter; see the article by clicking this link: https://mailchi.mp/5a3ad195e002/nla-monthly-newsletter-4872333. Da Hood Talks Podcast is quickly gaining momentum and has been featured in the Saint Louis American. Shavanna uses her voice through her podcast to engage the community, educate the community, and be a constant resource to the community.

Shavanna also recognizes the importance of dismantling racial disparities; she has a passion for empowering others, advancing racial equity, and an advocate for promoting community voices first. Shavanna has stated, "Community voices are lacking when decisions are being made for our various communities and I am working efficiently to change that narrative by advancing our own and elevating those in my community. We are pushing to make sure that the community voices are celebrated, elevated, and supported."

Shavanna has a personal stake in her community because as a dedicated mother of two beautiful girls, she wants a thriving community of representation for her daughters to flourish in.
Session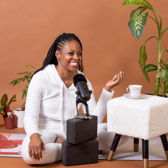 SonJoria Sydnor is a wife, mother and author passionate about health and wellness. Through her platform as the owner of Our Family's Doing Yoga, LLC (https://ourfamilysdoingyoga.com/) she uses her skills as a parenting educator and certified yoga instructor to support and increase visibility of well-being for Black families. Through their products, videos, classes and more the goal is that Black families feel represented, knowing that yoga is for everybody.

Tea with A Yoga Mama Podcast
SonJoria Sydnor of Our Family's Doing Yoga invites you to join her for tea as she discusses the challenges and wins around family, parenting and well-being. She offers diverse insight on various topics from the perspective of a yoga practicing mama. Check out her podcast here: https://feeds.buzzsprout.com/1896816.rss
Session