Evidence-based psychological and pharmacological interventions for perinatal mood and anxiety disorders
Perinatal mood and anxiety disorder (PMAD) is debilitating for women during pregnancy and the first 12 months postpartum, which may lead to socioeconomic burdens, a negative impact on children and partners, and suicidal behaviors. The pooled prevalence rate for perinatal depression is between 10-15% in developed countries and 19-25% in developing countries, while the prevalence rate for perinatal anxiety is around 13%. Several treatment options exist with strong research support such as cognitive behavioral therapy (CBT) and interpersonal psychotherapy (IPT). Selective serotonin reuptake inhib...Read moreitors (SSRIs) have demonstrated good efficacy when compared to a placebo control. Despite these evidence-based treatments, up to 86% of women with PMAD do not receive adequate treatment. Identified barriers include stigma, logistical barriers to engaging in treatment, fear toward psychopharmacology, and a limited number of clinicians who have received PMAD management training.

Designed for intermediate practitioners, this live interactive webinar will discuss the socioeconomic impact of PMAD, barriers to treatment engagement, and implementation of evidence-based interventions. The presentation will cover current recommendations to reduce barriers to treatment to help clinicians effectively implement PMAD management in different settings and diverse patient populations with intersectional identities. At the end of the presentation there will be a moderated Q&A session to address audience questions. Less...
Learning Objectives
Summarize the socioeconomic burden of PMAD for women with intersectional identities.
Identify at least three psychological and pharmacological strategies that can be used to help women with PMAD.
Describe four common barriers of PMAD management and implementation strategies to increase access to treatment.
Learning Levels
Friday, August 26, 2022
01:00 PM EDT - 02:30 PM EDT
Register for this Webinar
After registering, you will receive a confirmation email from CE-Go (
support@ce-go.com
), not Rogers. Please be sure to check your junk/spam folder for this email.
EARN 1.5 CE Credit Hours

After registering, you will receive a confirmation email from CE-Go (
support@ce-go.com
), not Rogers. Please be sure to check your junk/spam folder for this email.
About the speakers
Ajeng Puspitasari, PhD, LP, ABPP
Clinical Director, Minneapolis and St. Paul
Dr. Puspitasari is a board-certified psychologist with a specialty in Behavioral and Cognitive Psychology who serves as the clinical director for Rogers Behavioral Health's Twin Cities clinic locations. Her research focuses on the dissemination and implementation of evidence-based psychotherapies (EBPs) in diverse behavioral health settings. She co-authored peer-review articles and presented at conferences on the dissemination and implementation of EBPs. She has provided EBP training, supervision, and consultation for clinicians both in the United States and internationally.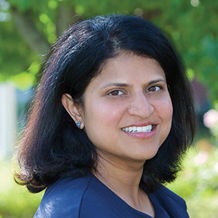 Hemalatha Rajanna, MD
Medical director, Adult Inpatient Care and Focus Depression Recovery adult residential care, West Allis
Dr. Rajanna is a board-certified adult psychiatrist who serves as the medical director of Adult Inpatient Care and the Focus Depression Recovery adult residential care at Rogers' West Allis hospital campus. Before her current role, Dr. Rajanna served as the medical director of outpatient care for adults and specialized in treating adults with a wide range of mental health concerns at Rogers. Dr. Rajanna first practiced medicine in women's obstetrics and gynecology prior to completing psychiatry training in the United States. Prior to joining the team at Rogers, she served as a staff psychiatrist in the Women's Treatment Unit at the Milwaukee County Behavioral Health Division, and also served as a forensic medical examiner. She has delivered many professional presentations in the United States and the United Kingdom and has helped teach medical students and paramedical professionals.
Agenda
1 pm ET Welcome and speaker introduction
1:05 pm The socioeconomic burden of PMAD
Current prevalence

Existing research on the socioeconomic burden

Social determinants for women with diverse intersectional identities
1:15 pm Psychological and pharmacological interventions for PMAD management
Cognitive Behavioral Therapy (CBT) strategies

Behavioral Activation and Exposure Therapy to target depression and anxiety symptoms

Medication management
1:45 pm Strategies to implement PMAD management for diverse clinical settings and patient populations
Common barriers to receive PMAD interventions

Implementation strategies to support PMAD management
2:15 pm Moderated Q&A
2:28 pm Closure
CE Information
- Earn 1.5 CE Credit Hours
CE Approvals
American Psychological Association
Rogers Behavioral Health is approved by the American Psychological Association to sponsor continuing education for psychologists. Rogers Behavioral Health maintains responsibility for this program and its content. Rogers Behavioral Health designates this live program for 1.5 continuing education credits; no partial credits will be awarded.
Association of Social Work Boards
Rogers Behavioral Health, provider number 1101, is approved as a provider for social work continuing education by the Association of Social Work Boards (ASWB), www.aswb.org, through the Approved Continuing Education (ACE) program. Organizations, not individual courses, are approved as ACE providers. State and provincial regulatory board have the final authority to determine whether an individual course may be accepted for continuing education credit. Rogers Behavioral Health maintains responsibility for this course. Approval period: October 18, 2020 – October 18, 2023. Social workers completing this course receive 1.5 clinical continuing education credits.
National Board for Certified Counselors
Rogers Behavioral Health has been approved by NBCC as an Approved Continuing Education Provider, ACEP No. 6192. Programs that do not qualify for NBCC credit are clearly identified. Rogers Behavioral Health is solely responsible for all aspects of the programs. 1.5 instructional clock hours will be awarded.
Other Professionals
Rogers Behavioral Health will issue a certificate of attendance for your participation in this activity.
CE Process Info
Each professional is responsible for the individual requirements as stipulated by his/her licensing agency. Please contact your individual licensing board/regulatory agency to review continuing education requirements for licensure renewal. Please note: You must attend "live" (in real-time) to earn CE credits.
Before the event, you will receive an email from CE-Go with access to the virtual event. After the event, you will receive access to your evaluation and continuing education certificate via a personalized "attendee dashboard" link, hosted on the CE-Go website. This link and access to the virtual event will be sent to the email account you used to register for the event.
Upon accessing the CE-Go "attendee dashboard", you will be able to:
Complete evaluation forms for the event

Download your continuing education certificate in a PDF format
If you have any questions or concerns regarding the CE-Go process, please contact CE-Go at 888-498-5578 or by email at support@ce-go.com Please Note: Emails for this event will come from "support@ce-go.com".
Please make sure to check your spam/junk folder in case those emails get "stuck". We'd also suggest "whitelisting" support@ce-go.com. This tells your email client that you know this sender and trust them, which will keep emails from this contact at the top of your inbox and out of the junk folder.
Disclosure
The presenters have each declared that they do not, nor does their family have, any financial relationship in any amount occurring in the last 12 months with a commercial interest whose products or services are discussed in the presentation. The presenters have each declared that they do not have any relevant non-financial relationships. Additionally, all planners involved do not have any financial relationships.