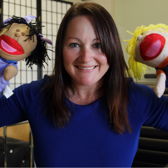 Jackie Flynn, EdS, LMHC-S, RPT is a Licensed Psychotherapist, EMDRIA Approved Consultant, and a Registered Play Therapist who works with child therapists to help them to deliver Play, Expressive, and EMDR therapies to maximize their clinical effectiveness.

Jackie is an experienced child trauma therapist, trainer, and consultant who knows all about the neuroscience of effectively working with children and teens in a developmentally appropriate way. She's well known and loved for her practical, actionable approach to teaching and consulting. She is the creator of the following children's books: Jackie Feels, In My Body, I Feel: a story about the felt sense of Emotions, and Animal Imagery: EMDR Inner Resource Development. Her passion for helping children and families in a variety of settings inspired her to open a private practice where she provides caring, thoughtful counseling and therapy to individuals of all ages, families, couples, and groups.

Jackie has created the Play Therapy Community ®, written children's books and is internationally known for her EMDR and Play Therapy trainings. She hosts the Play Therapy Community podcast that has been downloaded over 400,000 times in over 52 countries.

--

Jackie Flynn declares that she has no conflict of interest, competing interest or commercial support for this Play Therapy program. This statement is not intended to apply to gifts and/or similar entertainment of nominal value that clearly are in keeping with good business ethics and do not obligate the trainee/recipient. Any matter of question or interpretation that arises relating to this policy should be brought to the attention of Jackie Flynn for investigation. Competing interests are avoided, defined as potential influences that may undermine the objectivity, integrity or perceived conflict of delivery of this Play Therapy Program.
Sessions