Becoming a Kink Friendly Therapist
Therapists have an ethical and a professional responsibility to provide culturally humble care to our clients. This care is especially important for those who've been marginalized including sexually diverse and kinky clients. Many clients question if it's safe to be "out" with therapists. Unfortunately, many clinicians may have unaddressed biases or assumptions about kink and may inadvertently pathologize clients. This presentation will provide introductory information about kink, help you apply an affirmative, intersectional lens in working with sexually diverse and kinky clients, better asse...Read moress for safety, differentiate between consensual kink and abuse, and identify kink-affirming resources for cultural humility and to support your clients. Less...
Learning Objectives
Describe Kink & BDSM terms
Apply an intersectional approach to case formulation
Differentiate between consensual kink and abuse
Assess for safety with clients
Explore how clients may heal trauma through kink
Identify kink-affirming resources
Friday, June 25, 2021
11:00 AM MDT - 01:00 PM MDT
Register for this Webinar
$25.00 - $75.00
About the speaker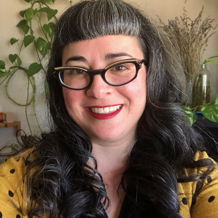 Molly Adler, LCSW, CST, ACS
Director, Sex Therapy New Mexico
Molly is an AASECT certified Sex Therapist, Clinical Social Worker, Sex Educator and Trainer. Her practice Sex Therapy New Mexico is based in Albuquerque, New Mexico on Tiwa land. She works with a lot of clients who are LGBTQ2S+, BIPOC, anti-racist, activists, polyamorous, and/or kink identified. Her approach is compassionate, grounded, pleasure-centered, light-hearted & social justice oriented. She enjoys the micro-level therapeutic work, as well as working towards structural change by offering training for healthcare providers and institutions who want to be more inclusive of sexual and gender diversity in their work. Previously she co-founded and co-directed Self Serve Sexuality Resource Center, New Mexico's first and only sex-positive, health- and education-focused adult shop and resource center for its first eight years.
CE Information
- Earn 2 CE Hours
CE Approvals
The New Mexico Counseling and Therapy Board
Approved by New Mexico Counseling and Therapy Practice Board. Provider Number CCE0204731. Expires 9/30/21

To all participants: If you were dissatisfied with the workshop, please contact the Counseling and Therapy Practice Board immediately
CE Process Info
Each professional is responsible for the individual requirements as stipulated by his/her licensing agency. Please contact your individual licensing board/regulatory agency to review continuing education requirements for licensure renewal.
A continuing education certificate for the event will be obtained using the website, CE-Go. Before the event, you will receive an email containing a link to CE-Go. (This link will be sent to the email account you used to register for the event).

Upon accessing the CE-Go website, you will be able to:

Join Webinar Sessions




Complete evaluation forms for the event




Download your continuing education certificate in a PDF format



If you have any questions or concerns regarding the CE-Go process, please contact CE-Go at 888-498-5578 or by email at support@ce-go.com