A Therapist's 101: HIV/AIDS
This webinar will provide an introduction to HIV/AIDS, and how to support, empower and offer resources to those diagnosed with HIV/AIDS. It will present specific information surrounding: vocabulary, what to expect upon diagnosis, treatment, prevention, stigma, the legal landscape at this time, and resources for clients. This webinar is presented In honor of World AIDS Day, This program is approved for 1 hour of ethics education. Less...
Learning Objectives
Identify risk factors for HIV/AIDs
Identify testing and treatment resources available in central Ohio
Understand 3 primary ways to prevent HIV transmission
Understand the basics of the legal landscape for those diagnosed with HIV/AIDs
Wednesday, December 01, 2021
12:00 PM EST - 01:00 PM EST
Register for this Webinar
$40.00
About the speaker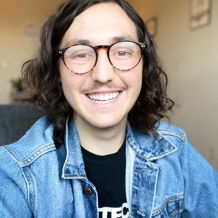 Elijah Johnson, MSW, LISW
Clinician
Elijah Johnson, MSW, LISW (they/them) is a licensed independent social worker and therapist primarily working with queer and trans people at Clintonville Counseling and Wellness. Eli received their Bachelors and Masters in Social Work specializing in trans-affirming care and advocacy. They have been an LGBTQ+ community advocate across Ohio for 8+ years, working to ensure queer and trans folks have the resources and community support they need and deserve. Eli has 4 years of experience working with those diagnosed with HIV/AIDs navigating complex health systems, those recently diagnosed, and those at risk of diagnosis due to drug use. Outside of work they love cooking plant based dishes and hanging out with their dog Pierogi.
CE Information
- Earn 1 CE Credit Hour
CE Process Info
A Continuing Education Certificate for this program will be obtained using the website CE Go. Approximately 3 days after the event, you will receive an email with a link to CE Go. This link will be emailed to the account you used to register for this event.
Upon accessing the CE-Go website, you will be able to:
Complete the mandatory evaluation forms for the event

Download your CE Certificate in PDF form
Program Approvals:
This program is approved for 1 hour of Ethics Continued Education. Clintonville Counseling and Wellness is approved by the state of Ohio Counselor, Social Worker and Marriage and Family Therapist board as a continuing Professional Education Provider for Counselors, Social Workers and Nurses #RCS012001, and Marriage and Family Therapists RTX082001
For questions regarding this program and its content, please contact April Cunningham, LPCC-S at april@clintonvillecounselor.com.