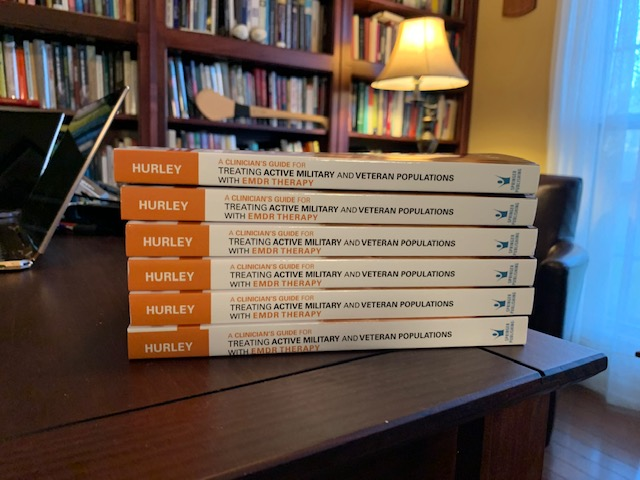 A Clinicians Guide for Treating Active Military and Veteran Populations - the webinar CURRENTLY BEING RESCHEDULED
This two-day, 12 hour webinar presented August 28-29, 2021 is based on Dr. Hurley's recent book published by Springer (2020).  It is presented in two parts.  Part 1 addresses the application of the EMDR eight phases and three prong approach to a wide range of clinical presentations from acute stress to complex PTSD with dissociative features.  During the second day, Part 2 addresses the application of EMDR therapy in the treatment of military and veterans with special needs including suffering with traumatic brain injury (TBI), moral injury, military sexual trauma (MST), and suicidality. A section on "When EMDR therapy does not work (with some therapists)" is presented.  The application of EMDR Early Intervention (EMDR EEI) is discussed for use among first-responders/military for post-critical incident and post-deployment applications.  EEI applications for military occupational stress programs both downrange and home base are presented.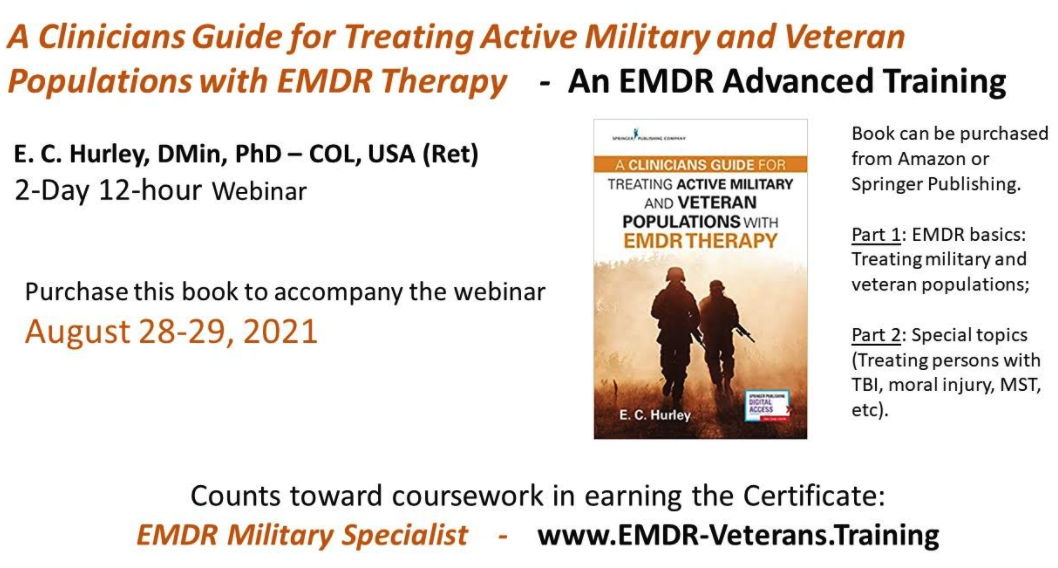 These webinars are designed to enhance the participant's clinical skills for providing effective treatment to these special populations.
COST: $325.00

EARLY-BIRD DISCOUNT REGISTRATION FOR 2-DAY TRAINING IS

$295.00

- WHEN COMPLETED

BEFORE JULY 28, 2021
Agenda Day 1

1. Understanding the Veteran

2. The three most important questions in the first session.

3. Intervention when suicide is always an option.

4. Introducing EMDR therapy to the military/veteran client
N
5. History-taking among these special populations

6. Phase 2 Preparation among persons with complex trauma

7. Assessment - a bridge between preparation and reprocessing

8. The reprocessing phases

9. Activating the positive memory network for phases 5, 6 and the future template

10. Closing
Agenda Day 2: Special Topics

1. EMDR therapy in the treatment of clients with traumatic brain injury

2. EMDR therapy applications in the treatment of moral injury (among military, veterans, first-responders and medical staff)

3. Treating military sexual trauma (MST) with EMDR therapy

4. Addressing suicidality among active military and veterans with EMDR therapy

5. When (and why) EMDR therapy doesn't work with some therapists

6. EMDR Early Intervention protocol applications with community and military organizations.

7. Conclusion